About
60 Years of Experience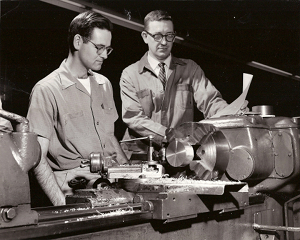 Herr Tool Sales has been in the business of selling quality tooling products and providing reliable technical guidance in manufacturing and workholding solutions for 60 years. With a storied history in manufacturing and workholding products, Herr Tool provides customers with expert advice and information about available products and product lines.
We strive to provide our customers with:
Expert guidance in tool selection;
Continued Sales and client service;
Support customers long term tooling needs; and
Client consultation.
Herr Tool has represented several top manufacturing brands—including Chick Workholding Solutions and SMW Autoblock—for decades. We have vast knowledge in a variety of installations, including:
Automatic Indexing Chucks;
Automatic Pallet Changers; and
Hydraulic Fixtures and Vises.
A trusted partner for 60 years, Herr Tool provides unmatched guidance and advice for tooling solutions and requirements. The United States Government, General Dynamics, and Caterpillar Tractor, to name a few, are among many of the premier companies that rely upon Herr Tool Sales for their manufacturing and workholding solutions.
Herr Tool offers products as solutions to the following disciplines: workholding & indexing, machine tools, precision measuring tools, machine tool accessories, spindle tooling, cutting tools, coolants, tool storage. In addition, we offer a chuck, cylinder and toolholder rebuilding service.
Call us at (800) 307-3518 or send us a message with any questions or to request a quote.